As a person engaged in historical fencing, I understand how important it is to protect your head in battle. The part of your body that is responsible for all the processes in your body. Getting hit on the head with a sword is unpleasant. That's why we have helmets in active use. We understand that our ancestors were skilled craftsmen because before, there were no manufacturers, which would deal with the development of such headgear. Every detail had to be made independently. And for mistakes had to pay themselves dearly. So, over the centuries, a man had to be more sophisticated and come up with new methods of protecting the head: new shapes, a new way of melting metal, etc.
On the one hand, you could say that historical helmets protected a large area, but there were problems with the inconvenience of use. The visor is narrow. The visibility is poor. It wobbles. No one took the measure off at the time, and this lump had to be carried on one's head. It was impossible to get a good aim when shooting. When jumping or running, you were constantly getting hit on the head with a piece of metal. But certain circumstances drove the progress of the development of new protection, more mobile and comfortable. And what progress has come to these days, that's what we'll discuss in this article.
What is a Tactical Helmet?
Who knows what kind of civilization we would be now if it were not for war: battles against each other, whole armies for territory, or simply tournaments where every true warrior wanted to prove himself. Would we have needed such defenses? But the formation of civilization has been going on for how many centuries. And the fact remains that nothing has changed, except that weapons are becoming more dangerous, which means that methods of protection are developing and becoming more and more practical.
So the modern tactical helmet is no different from the concept of "knight's helmet." At least in its purpose. Exactly, to protect a man's head in the fight. Of course, their appearance has changed considerably. But the meaning is the same.
Modern tactical helmets are made of a lighter material. Usually, Kevlar, carbon fiber, and impact-resistant plastic, which should protect its wearer from gunshots, are used for making these. Of course, they are no longer as heavy, more comfortable, and practical to wear and do not require a helmet. And it is impossible not to notice that they are adapted to hang on additional devices: cameras, flashlights, night vision optics, for example.
Best Tactical Helmets
Before we talk to you about what features a helmet should have and what you should pay attention to, I suggest clarifying the difference between a ballistic helmet and an anti-shock helmet. There is nothing complicated here. The first type is, of course, designed for combat conditions by its structure and functionality and should protect against shooting. It is heavier and more massive and often not intended to be mounted on him a night vision system, hearing protection, and communications equipment, and so on. Although the second type of helmet also finds its application in the military, namely in military training.
With that sorted out, we can now take a look at the list of the best tactical helmets the market has to offer us this year:
Team Wendy EXFIL LTP
Legacy MICH Level IIIA Ballistic Helmet
Caiman Bump Helmet Crye Precision AirFrame Ballistic
Legacy PASGT Level IIIA Ballistic Helmet
Hoplite Armor IIIA Helmet Fully Loaded
Shellback Tactical Level IIIA Ballistic PASGT Helmet
Now we can take a closer look at each one and examine the details we need.
1
Team Wendy EXFIL LTP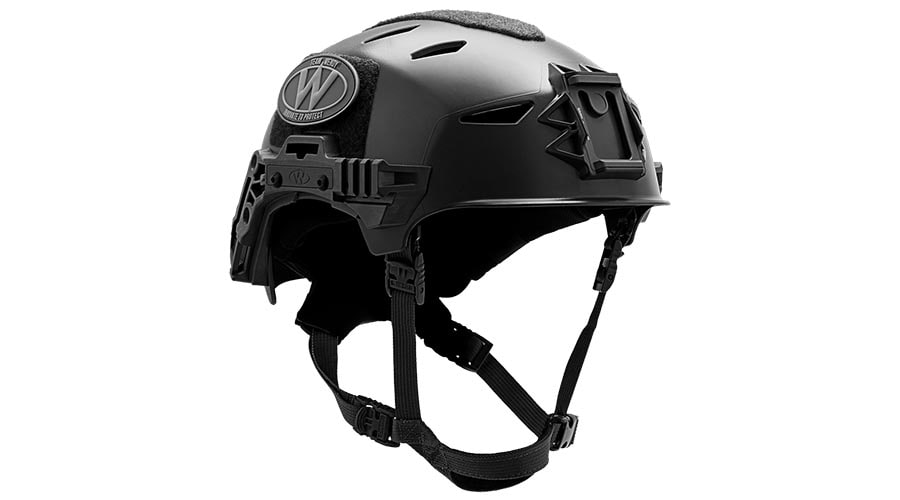 In short and to the point, this is a lightweight tactical shockproof polymer helmet. Its weight is approximately 1 kilogram. Naturally, it will increase depending on what you want to mount on it. After all, it is equipped with a platform that allows you to hang on it the accessories you need, especially night vision goggles, which, of course, will be a good helper in the dark. And from this, it follows that such a helmet will be comfortable to use not only military but also a civilian hunter, law enforcement officer, and so on. A significant advantage is also a reliable system of fasteners an CAM-FIT, through which it will be easy to adjust its fit on your head with sliders with a cam-lock. It is also worth noting that the lining of a Zorbium Foam will provide a high level of protection to your head from shocks. And a significant advantage is durability, which is ensured by the materials from which this helmet is made.
A unique feature of the Team Wendy EXFIL LTP helmet system:
Compatible with all EXFIL 2.0 accessories
Includes a Shock Cored Kit for NVGs
Six comfort pads with easy adjustment
2
Legacy MICH Level IIIA Ballistic Helmet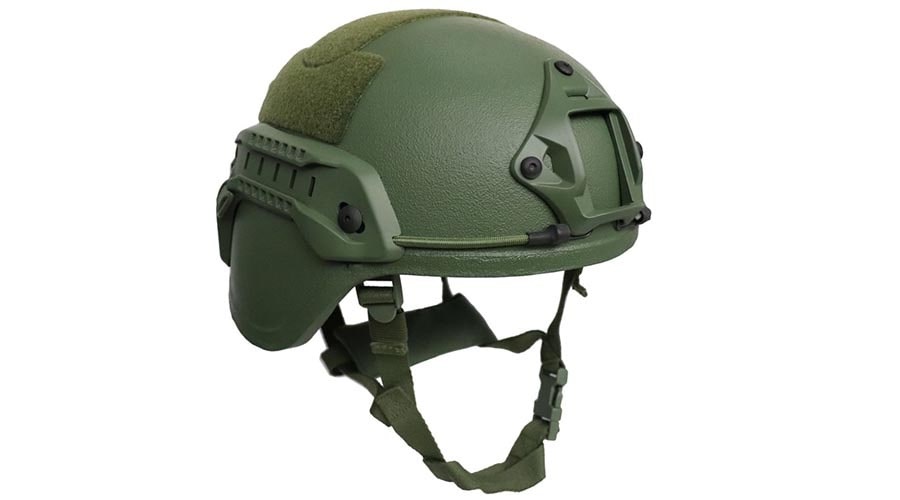 It says a lot that this helmet is a Level 3A helmet and that it is one of the nine best tactical helmets of 2021. The helmet was inspected by the U.S. National Institute of Justice (NIJ) STD 0106.01 and received the above rating. Since, according to the test results, it withstood a full jacketed round, 44 magnums semi-jacketed hollow point at velocities up to 1450 ft/s. Balanced in its functionality and appearance, it is well suited for modern firing combat.
You could say that this helmet is made to the last word. That is why it is now considered advanced, and its creators have made a significant breakthrough in improving this headgear, which protects the human head in adverse conditions.
Features the Legacy MICH Level IIIA Ballistic Helmet System:
Increased area of coverage over the ears and back of the head
Stable and ergonomic
Front Wilcox NVG mounting shroud
Fragmentation protection at 2150 ft/sec.
3
Caiman Bump Helmet Crye Precision AirFrame Ballistic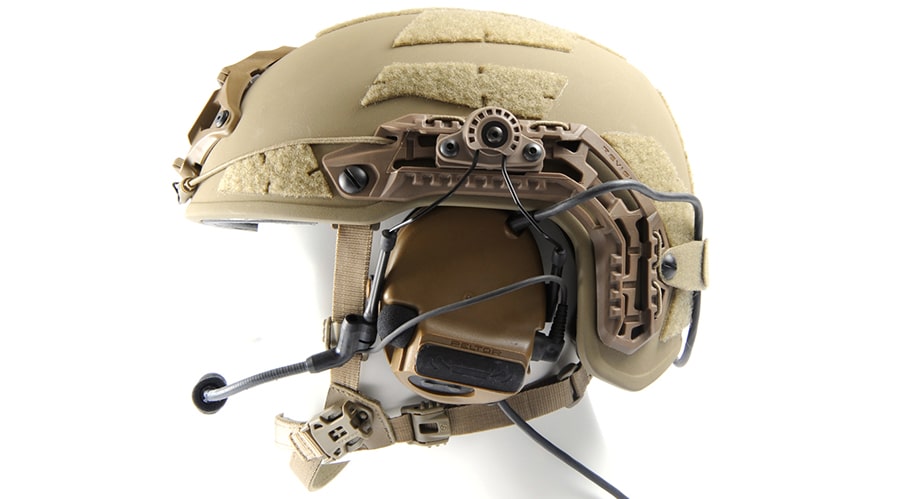 If you need to go on a long-distance voyage, where the choppy sea all the time is not stable, then you should take a closer look at this variant of a shock-proof helmet with a reinforced polymer body. After all, in these conditions, it is easiest to appreciate all its advantages, namely the system of fasteners for the necessary devices, which are so essential in the open sea. Therefore, this helmet variant will be an essential purchase for Coast Guard, Search and Rescue and National Guard operators.
But suppose we remember the difference between an impact helmet and a ballistic helmet. In that case, we are well aware that it is not suitable for protection from a bullet flying in your direction. But it will help not to injure your head at solid rocking. It is also worth noting that the company Caiman, which is actually and deals with the development of tactical helmets, provides five sizes of this headgear that will provide its owner with light, but at the same time durable and reliable protection. The Caiman Bump Helmet Crye Precision AirFrame Ballistic Helmet System features:
Integrated and Scalable System: Up or down armor with rails, NVG shroud, and optional full-face protection accessories (various visors and mandible guards);
Bump System meets U.S. Army Standard for impact protection (CO/PD-05-04);
Compatible with: Caiman NVG Arm Visor; Caiman Fixed Arm Visor; Caiman Bump Mandible Guard; Caiman Ballistic Mandible Guard; Helmet Storage Bag
4
Legacy PASGT Level IIIA Ballistic Helmet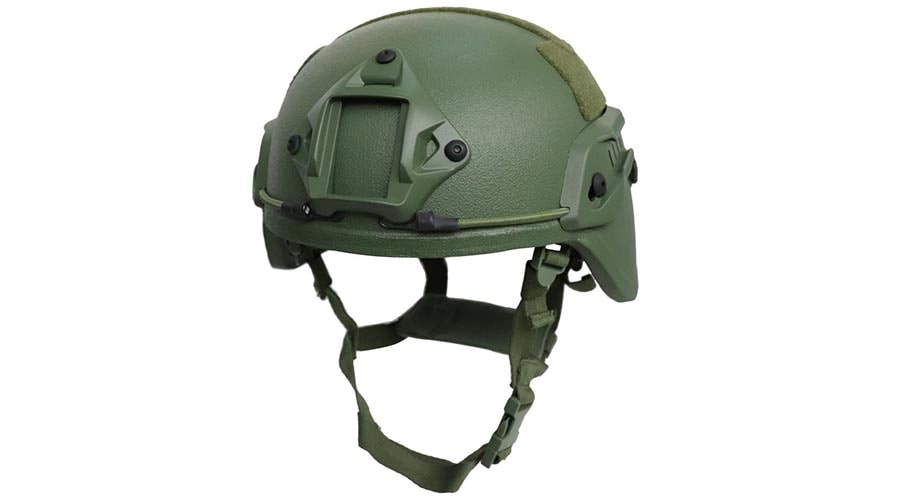 In the name of this helmet as well, we see the mentioned level, which indicates its durability and reliability due to its multi-layer construction, armed and ballistic polymer polyethylene. These materials make it a reliable companion and protect your head from a bullet shot or ballistic shrapnel. The leather strap, uncomplicated attachment system makes it easy to use but also very secure, as it locks well from neck to head and does not dangle during the execution of the military operation. Simple in design yet reliable in use, meeting US PASGT and MIL-H 44099A standards, it is an excellent fit for police, ground troops, and special units.
The Legacy PASGT Level IIIA Ballistic Helmet System features:
NIJ 0101.06 - Level IIIA
Tested for Penetration and back face deformation
Standard PASGT design (MIL-H-44099A)
Defeated Rifles: .357 Magnum rifle, .44 Magnum rifle
Defeated Handguns: .9mm, .357mm, .40 S&W FMJ.5
5
Hoplite Armor IIIA Helmet Fully Loaded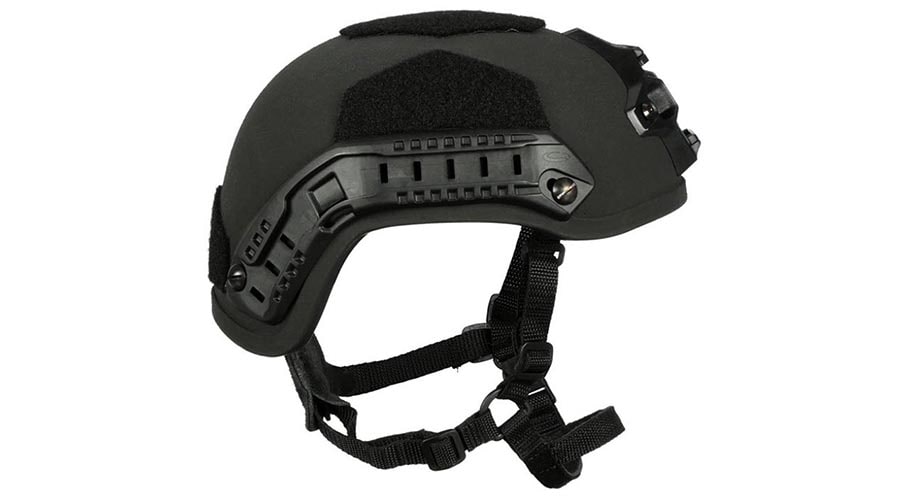 This helmet has proven itself not only in combat or police work but also among civilians. It is lightweight, comfortable to use, equipped with a secure attachment. The level of qualification specified in the name itself suggests that the manufacturer and this model can be trusted. And if it comes across to you among the options offered for purchase, it's worth considering. And by its characteristics, in principle, it is pretty clear why it is given a separate place in the rating.
Features Hoplite Armor IIIA Helmet Fully Loaded:
Meets NIJ level IIIA protection
High cut shell
Side rails for accessory mounting
NVG shroud
Seven pad cushion system
Velcro
Bungee
CAM fit retention system
6
Shellback Tactical Level IIIA Ballistic PASGT Helmet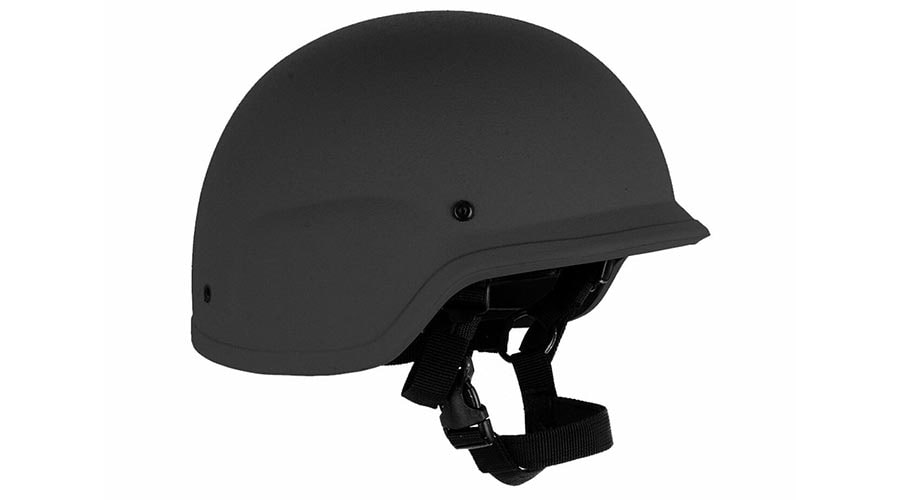 In this article, we have repeatedly mentioned and clarified that if the helmet has the qualification level 3A, it already implies high quality, competent functionality, durability, and reliability. The materials of this model are Kevlar fibers and thermosetting resin, which guarantees a high level of protection and durability of this helmet, which is a powerful argument in its favor. It is weighty, but its seven-part construction and the 4-point fixation system make it more comfortable to wear and last longer. An important feature is that it is equipped with special pads for fixing the necessary devices on duty. This particular model has proven to be very popular with the military due to the features mentioned above, which make it justifiably competitive in the market among such devices.
Features of the Shellback Tactical Level IIIA Ballistic PASGT Helmet:
Level IIIA protection
Fragmentation protection
5 Year Ballistic Warranty
Constructed with Kevlar fibers and thermoset resin
D30 Trust 7 helmet pad system provides extra comfort
What to look for when buying a ballistic helmet
We have considered all of the above models of helmets an excellent, necessary, and valuable device for the person on duty in the performance of his military or civilian task. These people have specific evident and compelling reasons for having it in their possession. Nevertheless, they are often not involved in its purchase. But now, opening the Internet, typing into the address bar "buy helmet," we are given many tabs, different stores, and platforms that can provide a free purchase of this item. You can headlong find the cutest helmet at a low price and buy it without looking. But is there any point in doing so? Therefore, perhaps the first rule worth highlighting on the subject of "what to pay attention to when buying a helmet" is to take the goods from the original suppliers. The helmet's name is most likely already indicated by the manufacturer, so it is worth checking its official sites or stores partners. Of course, we all are hard-pressed with money, we all want to save money, but we should remember that the quality is worth paying for. And, actually, from this follows and the following point you should think thoroughly - the reason for buying a tactical helmet. For what purpose do you need it? Where and how often will you use it? An excellent quality model will cost a lot of money. Does it make sense to pay that kind of money? We can consider different uses and reasons for its purchase by a civilian. So the banalest example of this reason - former military and veterans thus feel a connection with the former years spent in service. Nostalgia also has its place. And sometimes, people are willing to part with money for sentimentality. Especially if they are true connoisseurs of military equipment and gadgets. The following obvious situation is that it can be handy for the hunter. It will be a guarantor of protection of your head from accidents, such as falling from a deer stand. Those who like to spend their free time in the silence of the forest with a rifle in their hands take into account that some ballistic (that is, more durable) and mostly shockproof models have unique platforms for mounting a camera, which will help to capture beautiful landscapes, fragments of wildlife. Or, if your area is allowed to hunt in the dark, there is an opportunity to fix a night vision device on the helmet, and it will help free up your hands and not think about the fact that you need to double-check the movement of the target constantly. In principle, these are good arguments for the existence that you should think about buying a helmet. And in this case, you should pay attention to such variants where there is a system of fixation of the devices you need.
Suppose you are a pragmatic person, thinking ahead, and want the necessary means of protection during various disasters in your area. In that case, the helmet is also worth paying attention. For during storms, hurricanes, floods, hail, and in our time and meteorite rain is unlikely to surprise anyone, then protecting your head is a must.
So its presence is justified for fans of extreme sports, those who go on hiking tours, climbing in caves, or doing rock climbing.
Exactly, based on why you decided to get the service tool of protection, you should understand how strong it must be. Consequently, it is worth studying the materials that are used in its creation. In this article, we mentioned polymer polyethylene, Kevlar fibers, and thermosetting resin. Since they are most often found in the process of helmet making. The following essential element that makes up a helmet is the padding, which helps it sit nicely on your head and don't get metal recoil in your head. Otherwise, the purpose of the helmet essentially loses its meaning. Also, pay attention to the mounting system. Sometimes it is hard to understand from descriptions, what all straps and mounts mean, so try to examine the picture of the product in detail. Of course, in addition to all of the above, it is worth checking the specified weight of the helmet. If it's a simple ballistic helmet, its weight will be stable without platforms for attaching various devices. But if you understand that you need your helmet not only to protect your head but also as a support for additional equipment, try to think through these things in advance to understand, at least approximately, how many kilos your head and neck will bear. After all, once again, the purpose of the helmet - to protect and safeguard you, but not to bring additional health problems.
And an important point, do not neglect to consult a qualified employee of the store, who will help you choose what is right for you, given your size, so you do not waste money and then do not bother to exchange the model.
To summarize, I would like to say one thing. The choice of any item whose purpose is to protect you should be carefully checked by you, first of all, because you are responsible for your health and well-being. And in turn, we wish you an easy, fast and reliable choice so that what you want will soon be in your hands.