A night vision monocular is roughly the same as binoculars but through which you look with one eye. This device is more straightforward and cheaper. Like any night vision device, the monocular is quite versatile. You can use it regardless of your field of activity: hunting, research, outdoor activities, fishing, mountaineering, and so on. The primary condition is to be dark. Otherwise, this device will not manifest itself.
If you need to observe and zoom in on the object, it is better to buy a monocular with an approximation of 3-4 times. At least you will be able to see beyond about 200 meters.
Night vision monoculars are pretty popular among hunters. There are several reasons for this. Firstly, it is convenient for use on towers or field hunting. Since the monocular is exceptionally lightweight, you can always quickly get it out of your pocket or somewhere else to promptly check the area (if suddenly it seemed to you that "something" was moving suspiciously in the dark). In addition, you can set it up on a tripod, point it where you want to, sit and watch calmly until your victim appears through the lens.
Most professional hunters recommend the following hunting kit: night vision monocular + laser designator. The second is attached to the weapon's barrel and is directed to the point at which you will shoot. Thanks to this, you can make sharp, unexpected shots, attack, as they say, from the hip, practically without preparing and not tuning in to the image. Directed - shot. The monocular sees the laser point perfectly. Just point the weapon and monocular at the animal and pull the trigger.
It would be very uncomfortable for hunters to move through the forest at night, constantly staring at the sight. Probably, such a hunt would have ended very quickly and, possibly, deplorably. That is why engineers have invented a night vision monocular - lightweight, compact, reasonably cheap, always near, gives you the possibility to observe at night as during the day. At the same time, you do not have to strain constantly. Keep your weapon ready and look around sharply.
If suddenly you are going to buy a monocular, then pay special attention to:
-Generation of the image intensifier (device core). Here the dependence is direct and understandable to everyone, from children to grandmothers: the higher - the better, but also, obviously, the more expensive.
It is visible and, therefore, what do you think?-IR illumination type. That's right - invisible. It is better to buy a second one since the animals do not see it.
-Diode or laser IR illumination. They are needed for better and more comfortable lighting in the forest.
-The amplification factor of the device. Regardless of your goal, an increase of up to 200 meters will be much better.
Best Night Vision Monoculars
1
AGM PVS-14 NL3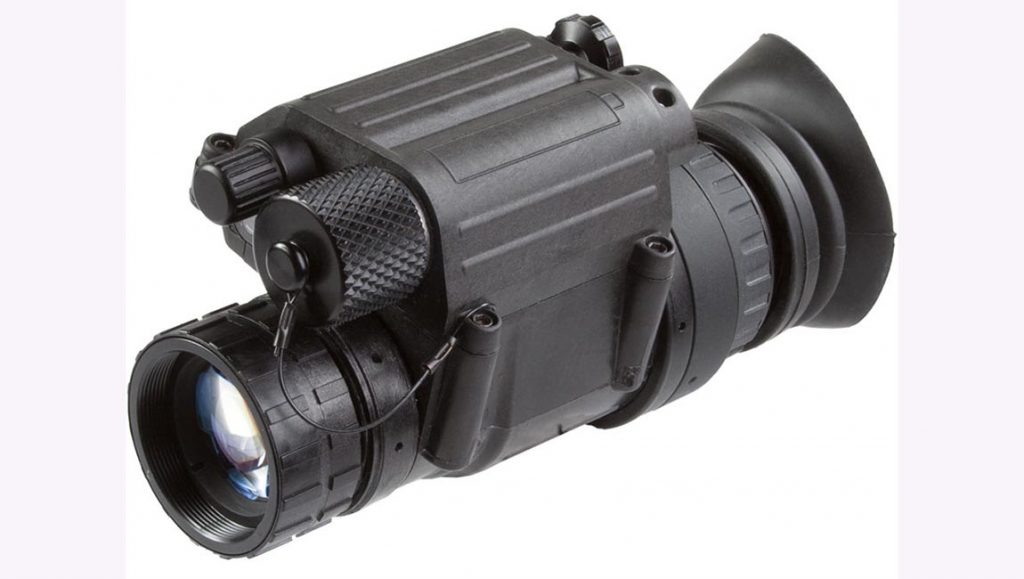 ---
The AGM monocular is equipped with a robust amplifying tube. We call it the best friend of any outdoor enthusiast. The device works on one battery for almost two days. Obstinate addition, both the amateur and the professional will be pleased with the powerful infrared illuminator with which this device is equipped. Like a real partner, the device will itself notify you that the battery is almost empty, that the infrared radiation is on, and that there is too much light around.
2
Bestguarder Night Vision Monocular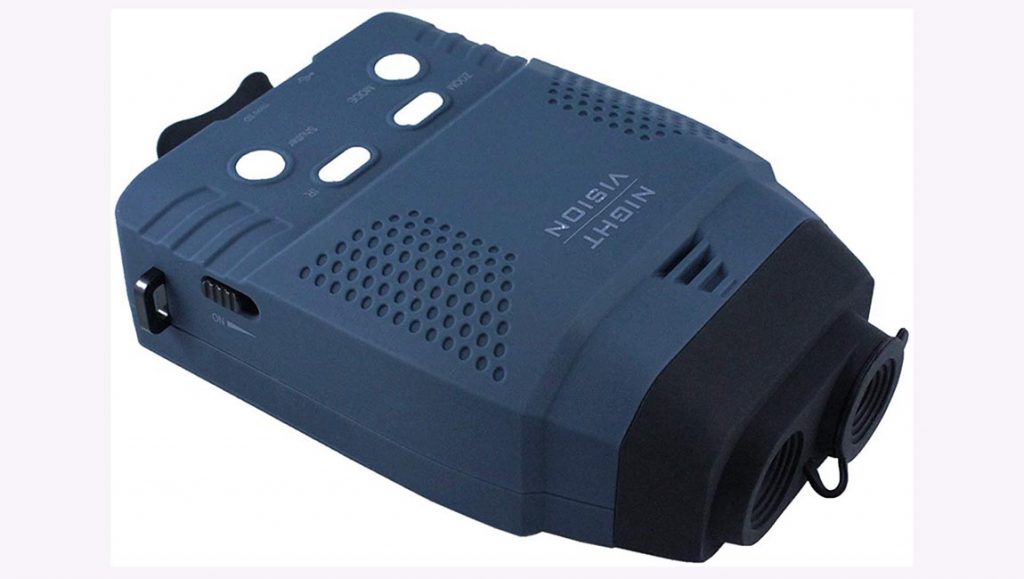 ---
This is Mr. Clarity and Understandability. Suitable for hunters and travelers, bloggers, and special services. You can even shoot high-quality photos and videos with sound with it. An interface that anyone can understand. And most importantly, the clarity of the picture provided by this monocular will be the envy of any plasma TV.
The endurance of this monocular is fantastic - you can charge it from a power supply or an external battery and forget about the time limitation forever. Hunt, scout, watch, guard, fish, explore as much as your heart desires.
3
Astromania Night-Vision Monocular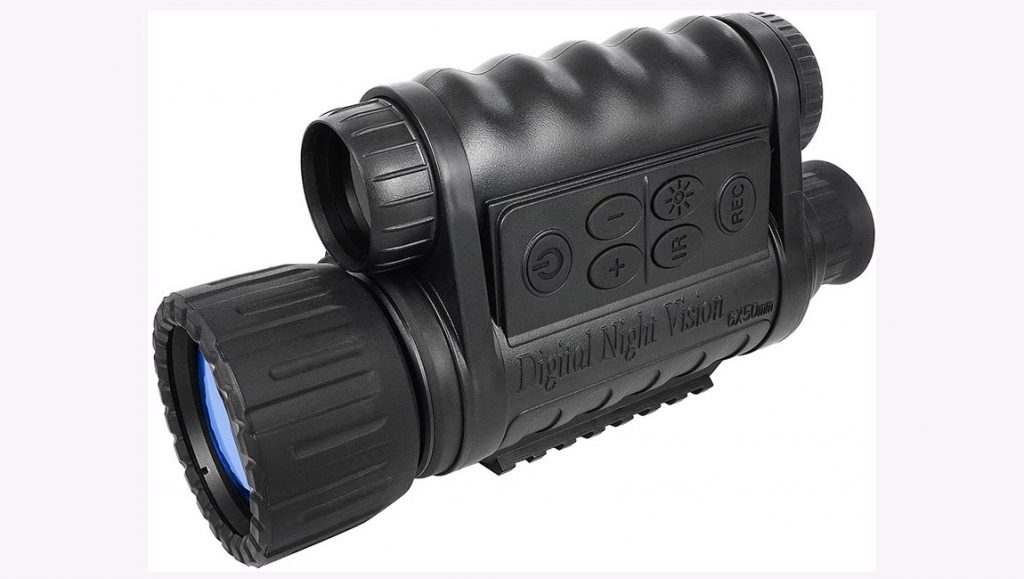 ---
This company focuses on the production of "visual" devices of all kinds and stripes. With a solid technical base and high-quality testing facilities, they constantly research, develop and manufacture newer and higher-quality devices.
The Astromania Night Vision Monocular has everything you need to watch and hunt. It is lightweight, compact, durable, easy to use, and has sensitive sensors - nothing escapes your gaze. This device is suitable for any activity, from the most extreme to the most relaxed.
4
Night Owl iGEN Night Vision Monocular
---
This is a relatively cheap and straightforward monocular. With it, you can take good quality black and white photos and videos, zoom objects 3-6 times, and control IR illumination, being in a completely dark room using three brightness settings.
5
Solomark Night-Vision Monocular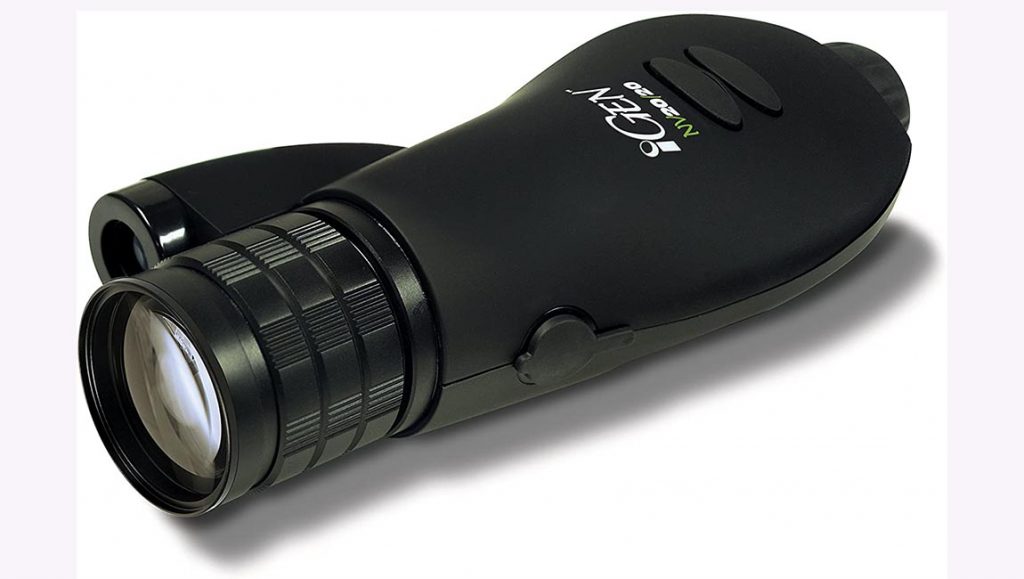 ---
For all its life, Solomark Optics has been specializing in producing optical devices for various types and purposes. From telescopes to binoculars. Their devices are in demand for outdoor viewing and hunting, travel, and research.
Without a doubt, this is one of the best monoculars that you have held in your hands, or rather, in front of your eyes. It is beautiful, it is good, it perfectly performs all the necessary functions. But be careful. You can get so carried away by using it that you will be awake only at night, and your acquaintances and friends may think that you are a vampire.
6
ESSLNB Monocular (Night Vision)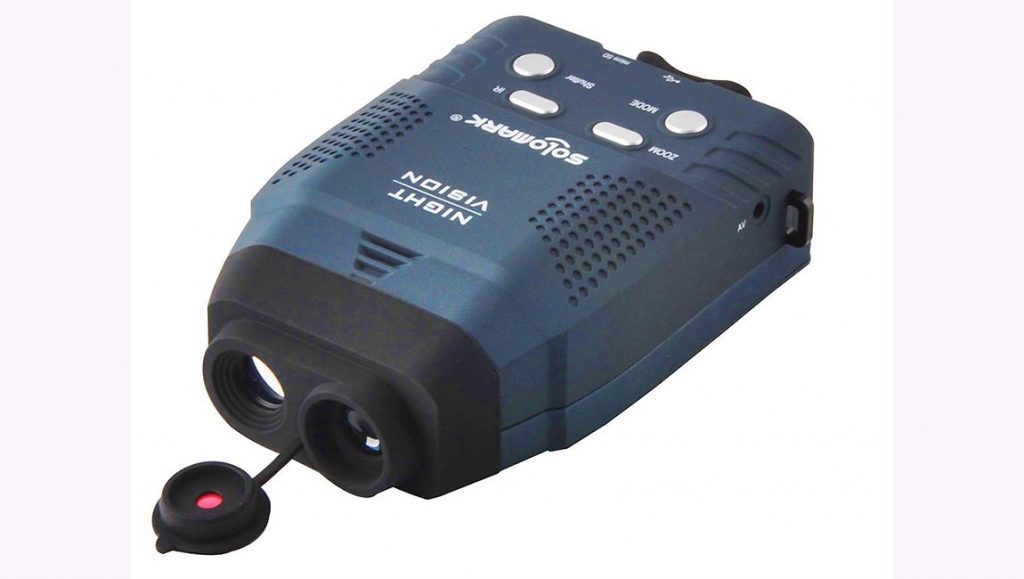 ---
Another decent monocular for its price. Easy to use, easy to adjust, and focused on objects. You can share photos and videos with your family on social networks or connect to a computer or TV, thanks to the corresponding features.
You can connect an additional IR illumination to this monocular or put it on a tripod if necessary. In general, it is a versatile device that was made to perform versatile tasks. If you have such a device, then you do not care about the dark time of the day in any area: sea, river, cave, mountain, and so on.
What Are Best Night Vision Monocular Good For?
The aristocrats have monocles. Hunter aristocrats and traveler aristocrats have a night vision monocular. It works on the same principle as any other night vision device - it allows a person to literally "see" in the dark and challenging weather conditions. Unlike binoculars, the monocular does not need to be held in the hands, it is attached to the helmet, and thus the hands remain accessible for other manipulations.
As in other night vision devices, the monocular has an infrared flashlight - it is invisible to the human eye and performs its function secretly, imperceptibly. It enhances the level of visibility in the dark.
Of course, hunters most often use night vision monoculars. Thanks to this device, they can easily and quickly track down the beast, inspect the area around them and make accurate shots at the target. One of the main advantages of the device is its low cost. Even if you don't find a super cheap monocular, it is still more affordable than other night vision devices. The price of monoculars is lower due to only one optical path and one image intensifier.
Many believe that monoculars are useless due to the low price and more modest filling in comparison with analogs. But this is not the case. The device is exceptionally convenient for any hunting or travel operations. It can be put on a tripod, fixed on a helmet or mask, your hands are accessible in any case, you can take a shot at any time, and with high accuracy.
The disadvantage of monoculars, perhaps, is that they cannot shoot. You have to lug a gun or something like that. The monocular can only detect the target, but you will have to lay it down with a shot from the weapon. Fortunately, your hands will be free for this.
One of the advantages of monoculars over binoculars is that they are lighter and easier to carry with you. Plus, you can take off and put on the monocular whenever you want. It is worn with a head mask or helmet, so you can take it out of your eyes when you don't need it.
Because you look into the monocular with one eye, and the other is free, it becomes easier to aim. However, a common disadvantage of these devices is that they have a minor magnification (1.25; 1.35).
How do we decide what monocular to buy? The most important thing is to compare different models in the same area. You need one in which the light will be brighter without a unique, additional IR illuminator. The image intensifier is the most critical parameter that should interest you. It influences the price of a monocular the most. However, it also affects its quality the most.
Two identical monoculars of the same company can produce different images. The fact is that each tube of an image intensifier is individual, and, as a result, the company does not make the same devices as from a conveyor belt. They are all different, and therefore you should check all the monoculars you like in the store, compare them with each other and choose the best one.
Before you go to the store for a purchase, you must decide what exactly and for what tasks you need. Perhaps, in the end, you will conclude that you do not need a monocular but some other night vision device. As for monoculars, here are their apparent advantages:
-Compact
-Affordability
-Possibility to use as a sight
-Possibility to combine with binoculars
-Lightweight
-Small dimensions
-Low power consumption
-Long service life
-Fixing on a mask or helmet
It is essential to consider the following characteristics and features when choosing a device for hunting:
-Product dimensions
-The weight
-Housing materials
-Durability and tightness of the case
-Energy consumption
-Possibility to add accessories such as IR illuminator, microphone, etc.
-Additional features (video and photography, video streaming, etc.)
-Image of the manufacturer
-Warranty service
-Reviews of professionals
Summary:
If you want to comfortably and with pleasure do what you love - hunting or observing nature, then you need a night vision monocular. It will help you do what you love, not only during the day but also at night.
The monocular is needed to conduct observation at any time of the day. However, it is mainly used, of course, at night. Amateurs and professionals in various fields of activity actively use it in their actions.
The night vision monocular consists of a convex-concave lens, an image converter, and an eyepiece. It is based on a modern optical system, which has the following design features:
-Supersensitive sensor, fast lens, and good magnifying ability provide observation range up to 275 meters
-touch display with high resolution, color zoom 2x makes it possible to produce high-quality pictures at maximum magnification
-reducing the amount of light, reducing the brightness of the diaphragm increases the contrast of the photo/video, allowing you to use the device at any time of the day
-Built-in video recorder provides photo/video recording. Images can be viewed, saved, and transferred to another device
- it is possible to connect external power sources due to the presence of a microUSB connector, which increases the operating time of the device
What additional features do monoculars usually have? The ability to set it on a tripod and, for example, the ability to dim the display. Such a device can be carried with you to any extreme places with the same conditions. Monocular with you - into fire and water.
Additional capabilities of the optical device
The monocular provides the possibility to use the Stream Vision application. The APP connects the device to a computer / laptop and other digital devices. This expands the possibilities of using the device, providing:
-remote observation of the object
-online broadcasting
-save photo / video
-program update
The optical device has proven itself to be a digital camera.
If you squeeze out all of the above text, like a lemon, and leave only a seed, then here it is:
Monocular - high quality, convenient, easy to use, reliable, relatively cheap and affordable for the layman.